Additional shipping charges (for shipping to isolated islands in Japan)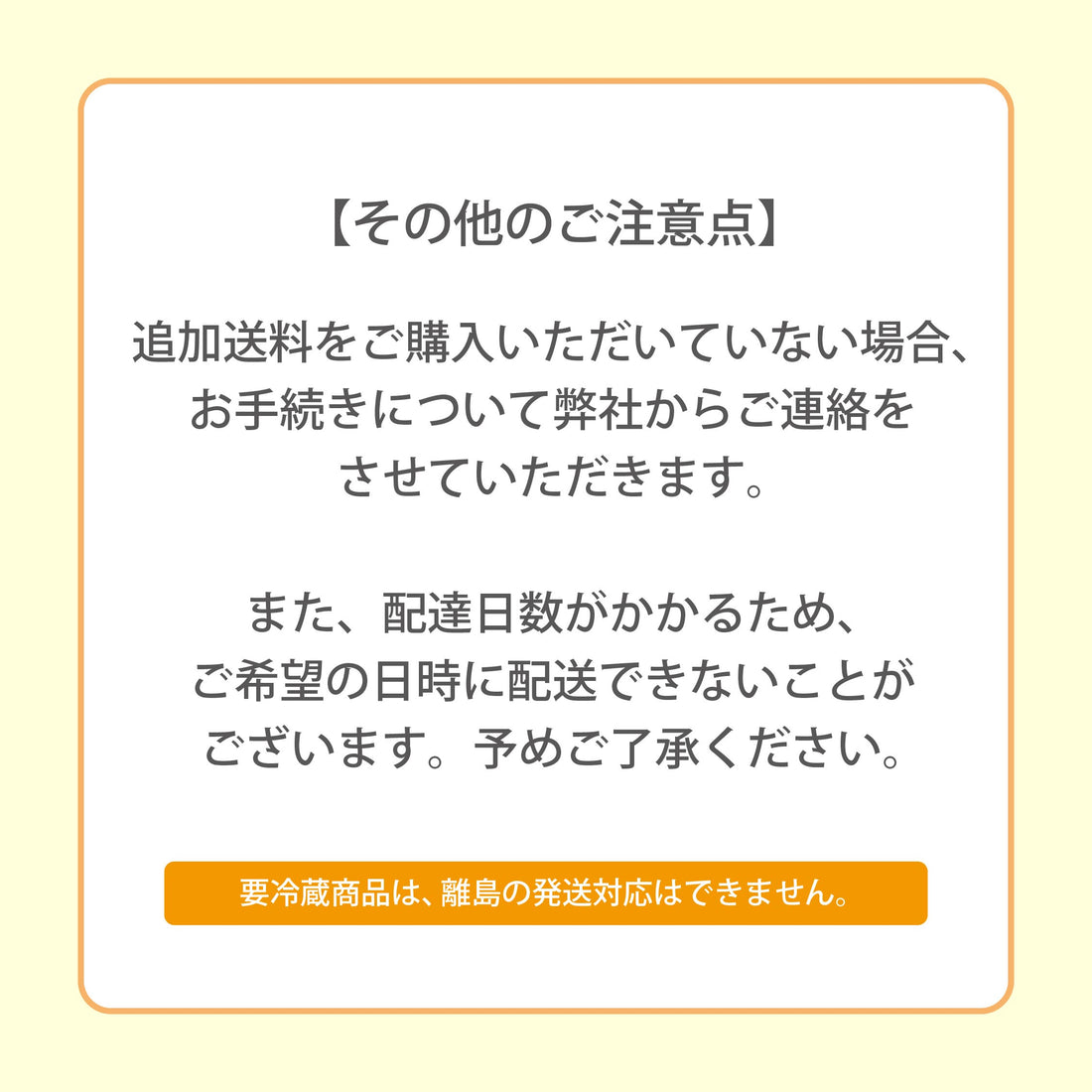 Additional shipping charges (for shipping to isolated islands in Japan)
*Please do not purchase this product alone.


Additional shipping costs are required for shipping to isolated islands.

Due to system reasons, shipping costs are set by prefecture.
Hokkaido and Okinawa areas are automatically settled with the additional shipping costs included, but for shipments to isolated islands in other prefectures, you will need to purchase "additional shipping costs" separately.
We apologise for the inconvenience and thank you for your understanding.

[Basic shipping costs]
Hokkaido: 1,540 yen
Okinawa: 1,540 yen
Other prefectures: 990 yen
The above shipping costs are calculated automatically.

An additional shipping fee of JPY 2,000 (including tax) is required in addition to the basic shipping fee for shipping to remote islands.

If you have not purchased the additional shipping costs, you will be contacted by us regarding the procedure. (If we are unable to contact you, your order will be cancelled.)
Please note that delivery to isolated islands takes longer and may not be possible on the requested delivery date and time. Please understand this in advance.

*Refrigerated items cannot be shipped to remote islands.

When you order over 5,500 yen, the 'basic shipping fee' is free, but the 'additional shipping fee' for remote islands is not applicable.


Junmai Daiginjo x the first harvest Matcha - The best marriage
To be worthy of the name "PREMIUM", a great deal of effort and time was invested in its production. Enjoy the exquisite taste born from the perfect marriage of Junmai Daiginjo and matcha green tea.

It's just a liqueur?
The soft sweetness and richness of this liqueur is so rich that flavours appear one after the other, filling your mouth with an expanse like looking through a kaleidoscope. Don't underestimate it as "just a liqueur". This is a new liqueur that will surely satisfy connoisseurs alike.
Let me introduce five 'Premium' ingredients.
The secret of the premium taste is Junmai Daiginjo, Manuka Honey, Wasanbon, Matcha and water. All of these are a combination of carefully selected top quality ingredients. We hope you will enjoy the premium taste of our pursuit of the 'real thing' in everything we do.
Premium top-quality materials
Yamada Nishiki, the highest grade of sake rice. Junmai Daiginjo made with rice from the Yoshikawa district of Hyogo Prefecture.
The Junmai Daiginjo at the base of Myo-cha Premium is made from 100% rare rice from the Yoshikawa district of Hyogo Prefecture, and that is Yamadanishiki, which is considered to be the best rice for sake brewing.
The matcha blended in Myo-cha is "first harvest new tea".
The matcha blended in Myo-cha is "first harvest new tea" produced by Nishio Myoko-en, a long-established tea company in Sakai founded in 1854, using only the first sprouts that sprouted that year. Only a very few of the new teas are produced, and they are selected by tea masters.
Gyoja spring water from Mount Kongo
The first thing that determines the taste of sake is the rice and then the water. Gyoja spring water is used as the brewing water for Junmai Daiginjo. Mount Kongo is rich in granite, and the water that seeps underground is polished over a long period of time. The spring water contains minerals and has a mild taste with a refreshing aftertaste. The water has enough power to ferment at low temperatures and is ideal for brewing ginjo sake.
Special attention is also paid to the hidden flavour. Elegant and gently sweet Sanuki Wasanbon and Manuka honey.
Highest quality sugar, Sanuki Wasanbon.
Wasanbon is a rare sugar unique to Japan, produced only in a small area of Kagawa and Tokushima prefectures.
Sanuki's wasanbon is made from a slender sugar cane called chiku-tou (bamboo sugar), and craftsmen take their time to give it a superb umami taste. It is a top-quality sugar with a smooth texture and elegant flavor.
Manuka Honey
Manuka Honey is a type of honey that comes exclusively from the Manuka trees that grow wild in the mountains of New Zealand.
It is of course pesticide-free as it is collected in an environment surrounded by untouched wilderness. It is also expected to be effective as a health food because it contains a wealth of ingredients that are good for our body.
Its unique sweetness takes the complexity of the Myo-cha taste to a whole new level.
evergreen
Myo-cha Premium - 45ml
oolong tea - some
lake-queen
Myo-cha Premium - 20ml
vodka - 20ml
pineapple juice - 10ml
fresh cream - 10ml
Myo-cha Frozen cocktail
Yogi - 40ml
Fresh cream - 30ml
syrop - 10ml
mint leaf - some
Myo-cha Premium - some
【Turn the bottle up and down and thoroughly mix the contents before drinking.】
*This product uses 100% Japan-made tea powder.  Some of the ingredients may float or precipitate, but there is no problem with the product quality.